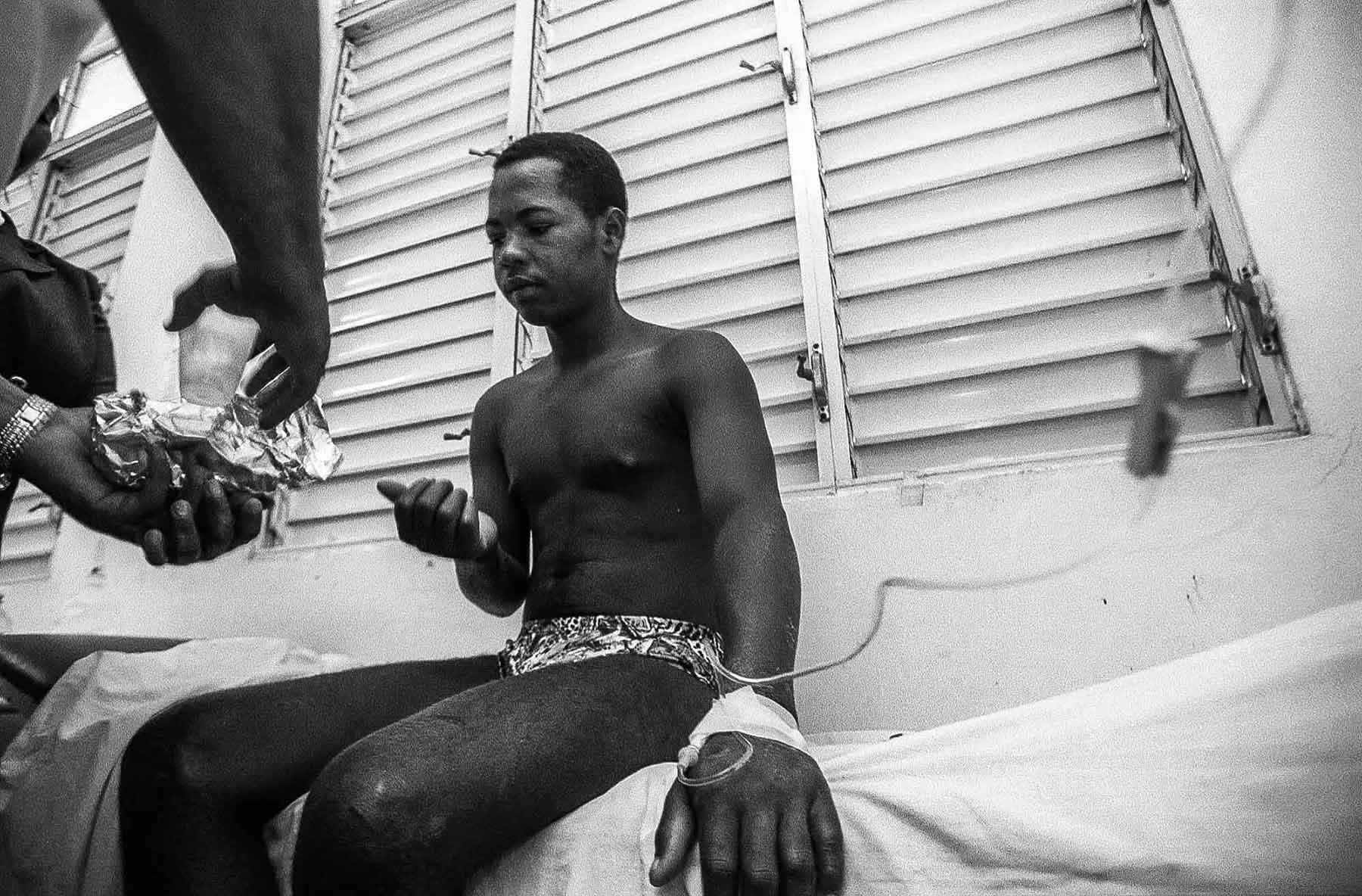 Castaways's stories: Carlos y Felix / Historias de náufragos: Carlos y Félix
I almost approached with fear of being rejected. As usual. It is impossible for some to leave at the door that almost perverse feeling of feeling that you take advantage of the situation of vulnerability of certain people. A photographer has to carry it wherever he goes. Then the speed and discretion are transformed into respect. But the photo has to be done.
I hurried the ritual almost as a testimonial, automatic act, because I had to repeat the scene in adjoining rooms and although there was no time left, for others this was vital. What has been said, the coming of the dance of perversion. Then when the atmosphere was more relaxed I approached Carlos.
Carlos Pinales was called, 19 years old, from Boca de Chavón a fishing village of La Romana east from Santo Domingo in the Dominican Republic. According to involuntary and temporary neighbors rumors of Michael Jackson, Sharon Stone, JLo, etc. in the resort and the luxury marina in front. Only separated by the mouth of a river and little else, to say something.
 Only hours ago he had been rescued on a beach and brought from the southwest of Haiti along with two fellow travelers, well, the same companions and travel need to be qualified the fact is that when you get to the Pedernales hospital in the west end of the Dominican Republic and only there were two. Only a month ago he had left his small town next to the Chavón River on a yola (patera) heading to Puerto Rico. "We were like 60" he told me. He knew the 'captain' so he and his friend Felo did not understand when he left the yola when the engines stopped. Let's nuance  'captain'. Only 25 days after the death of the first person on board and others less than the abortion of two pregnant women before dying and being thrown they overboard. He was telling me and I was doing accounts. I asked him for a break to think that it was too much tragedy in so little space and for so few years. "And that's not all" he said looking at my face in amazement. And I thought again that was only 19 years old.
"About a week after being drifted they started eating the dead!" He said. I had already heard similar stories of shipwrecked, so I was struck by the fact that it referred to 'them' so I asked him. He told me he tried and he could not. Who drank seawater and ate fish. I thought to tell him that others could have done the same, but I did not. I had left the perversion in the door and also it was not time. Carlos was telling me something very intimate and painful; I know that for the one who also surely spent hours praying in that yola to recognize that he had eaten human flesh was a betrayal of his Christian values ​​and beliefs. It was a huge moral burden. I understood.
I had said goodbye to Carlos a few minutes ago when I went to see Felix Marcelino, the other survivor, I repeated the ritual of the beginning, I approached cautiously; he was in critical condition on a stretcher, accompanied by two nurses and they told me that when they rescued him on the beach he only asked to be allowed to die so when days later they called me from The Guardian to buy me the photos of both the journalist with whom I spoke told me that he had visited to Marcelino at his house and that he was recovering. I was glad. Those little joys that gives the job and of which one thinks of himself as a participant.
Marcelino had told him how there was a fight on board between those who did not mind entering paradise with hunger and those who preferred to eat and wait to see what happened. That you never know. In the end there was verdict. Unanimous. And they decided to stay alive for several more weeks. That paradise is not going to move from there as a Dominican would say. "When you're desperate, compadre,(bro) do whatever it is," Marcelino would have said, then I thought back to Carlos, took a deep breath and forgave all my jobs perversions.
___
Me acerqué casi con temor a ser rechazado. Como siempre. Es imposible para algunos dejar en la puerta ese sentimiento casi perverso de sentir que te aprovechas de la situación de vulnerabilidad de ciertas personas. Un fotógrafo tiene que cargar con ello allí donde vaya. Entonces la rapidez y la discrección se transforman en respeto. Pero la foto hay que hacerla.
Apuré el ritual casi como un acto testimonial, automático, porque debía repetir la escena en habitaciones contiguas y aunque no me sobraba tiempo, para otros este era vital. Lo dicho, la puesta de largo del baile de la perversión. Luego cuando el ambiente estuvo mas relajado me acerqué a Carlos.
Carlos Pinales se llamaba, 19 años, de Boca de Chavón un pueblito pesquero de La Romana en República Dominicana. Según rumores vecinos involuntarios y temporales de Michael Jackson, Sharon Stone, JLo, etc. en el resort y la marina de lujo de enfrente. Solo separados por la desembocadura de un río y poco mas, por decir algo.
Hacía solo horas que le habían rescatado en una playa y traído desde el suroeste de Haití junto a dos compañeros de viaje, bueno, igual compañeros y viaje necesitan matizarse el caso es que al llegar al hospital de Pedernales en el extremo oeste de Dominicana ya solo eran dos. Hacía solo un mes que había salido de su pueblito junto al Río Chavón sobre una yola (patera) rumbo a Puerto Rico. "Éramos como 60" me dijo. Conocía al 'capitán' así que el y su amigo Felo no entendieron cuando aquel abandonó la yola a nado al detenerse los motores. Maticemos 'capitán'. Hacía solo 25 días de la muerte de la primera persona a bordo y otros menos del aborto de dos mujeres embarazadas antes de morir y ser tiradas por la borda. El me iba contando y yo iba haciendo cuentas. Le pedí una pausa para pensar que era demasiada tragedia en tan poco espacio y para tan pocos años. "Y eso no es todo" dijo ante mi cara de asombro. Y volví a pensar que solo tenía 19 años.
"Como a la semana de estar a la deriva comenzaron a comerse a los muertos!" dijo. Ya había escuchado historias similares de náufragos así que me llamó la atención que se refiriera a 'ellos' así que le pregunté. Me dijo que lo intentó y no pudo. Que bebió agua de mar y comió peces. Pensé decirle que los demás podrían haber hecho lo mismo, pero no lo hice. Había dejado la perversión en la puerta y además no era momento. Carlos estaba contándome algo muy íntimo y doloroso; sé que para el que también de seguro pasó horas rezando en aquella yola reconocer que había comido carne humana era una traición a sus valores y creencias cristianas. Era una carga moral enorme. Lo entendí.
Hacía minutos que me había despedido de Carlos cuando fuí a ver a Félix Marcelino, el otro superviviente, repetí el ritual del principio, me acerqué con cautela; estaba en estado crítico en una camilla, acompañado por dos enfermeras y me contaron que cuando lo rescataron en la playa solo pidió que le dejasen morir así que cuando días después me llamaron de The Guardian para comprarme las fotos de ambos el periodista con el que hablé me dijo que le había visitado en su casa y que estaba recuperándose. Me alegré. Esas pequeñas alegrías que da el oficio y de las que uno se cree partícipe.
Marcelino le había relatado como hubo una pelea a bordo entre los que no les importaba entrar con hambre al paraíso y quienes preferían comer y esperar a ver qué pasaba. Que nunca se sabe. Al final hubo veredicto. Unánime. Y decidieron permanecer vivos varias semanas mas. Que el paraíso no se va a mover de ahí como  diría un dominicano. "Cuando uno está desesperado, compadre, hace lo que sea" habría dicho Marcelino, entonces volví a pensar en Carlos, respiré profundo y perdoné todas mis perversiones laborales.