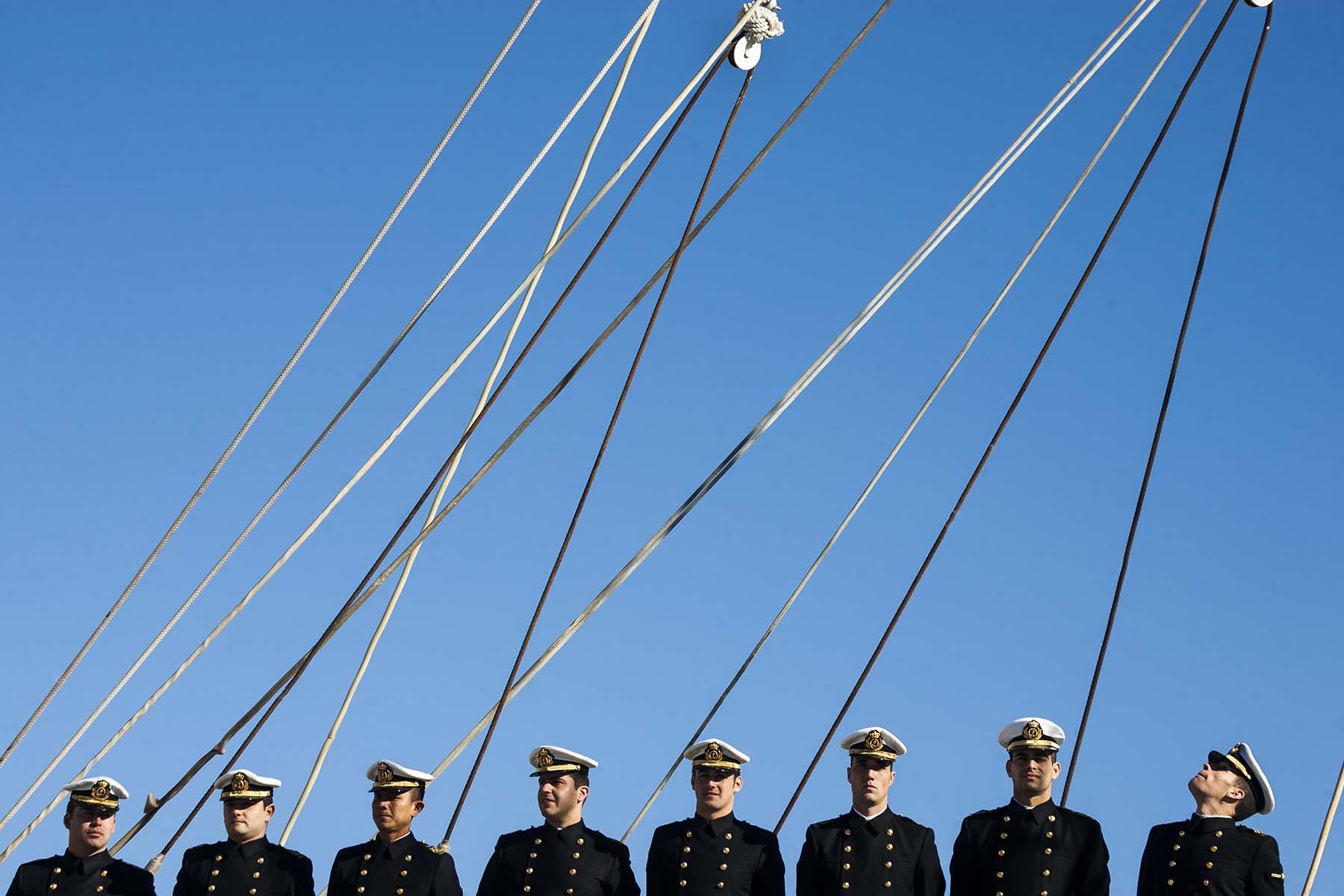 Free Radical / Radical Libre
Small-scale sociological study. Most of them are perfectly suited to training. But if we look closely we'll see that the situation is subtly more complex. The one on the left (according to us) adapts but is evident by his slight head turn that has doubts to know what is happening but doesn't dare to take the step, to turn completely and to ask. Too risky, I'd better stay here. He is also double bound; Good job, good pension insured, well appreciated by his boss, etc. So it's best not to bother, no shit it.
Almost all they are tied by a single rope except the one third by the left (their right) that has not even happened to turn. He is a man of the system, also note that he has Asian traits he is not from here, is not one of us so he has to prove over and over again that he wants to be like us. He doesn't know but he will always be suspicious for us. With the rest of them there are no problems, it is people that molds themselves through boredom or conviction.
Then there are the two most complicated cases. The third by the right (their left) is even loose but he insists on following us. You can leave whenever you want, but no. It is an irritating servanthood, seriously. With a personality so malleable at any time changes sides and fucks us alive! Then there is the black sheep. This is unrecoverable. He breaks the formation, he is not tied, if we do it he looself, goes to his fucking air, he does what it gives his desire. He has a rope but uses it as a pet. Lately it has given him by the origin of the strings. Where do they come from, who drives them, why are we here? What I said, a pain in the ass. It is impossible for him to be an infiltrator for the obvious and our great fear is that this guy ends up destroying whole system from within. We are convinced that he is a right-wing radical but says that if we stand next to him we will realize that he is left-wing. Very left.
We do not know what to think. What if we cut all the strings and let them go? And by the way stop fucking and fuck us?
RADICAL LIBRE
Estudio sociológico a pequeña escala. La mayoría se adapta perfectamente a la formación. Pero si observamos detenidamente vemos que la situación es sutilmente mas compleja. El de la izquierda (según nosotros) se adapta pero es evidente por su ligero giro de cabeza que tiene dudas por saber qué está pasando pero no se atreve a dar el paso, a girarse completamente y preguntar. Demasiado arriesgado, mejor me quedo aquí. Además está doblemente atado; buen trabajo, buena pensión asegurada, bien valorado por el jefe, etc. así que mejor no molestar no vaya a ser que la cague.
Casi todos están atados por una sola cuerda excepto el tercero por la izquierda (su derecha) al que ni se le ha ocurrido voltear. Es un hombre del sistema, además obsérvese que tiene rasgos asiáticos o sea, no es de aquí, no es uno de los nuestros por lo que tiene que demostrar una y otra vez que quiere ser como nosotros. El no lo sabe pero siempre nos será sospechoso. Con el resto no hay problemas, es gente que se amolda por aburrimiento o convicción.
Luego están los dos casos mas complicados. El tercero por la derecha (nuestra derecha) que incluso está suelto pero el insiste en seguirnos. Puede irse cuando quiera, pero no. Es de un servilismo irritante, en serio. Con una personalidad tan maleable en cualquier momento cambia de bando y nos jode vivos! Luego está la oveja negra. Este es irrecuperable. Rompe la formación, no se ata, si lo hacemos se suelta, va a su puto aire, pasa de todo, hace lo que le da la gana. Tiene una cuerda pero la usa como animal de compañía. Últimamente le ha dado por el origen de las cuerdas. ¿Que de dónde vienen, que quién las maneja, que por qué estamos aquí? Lo dicho, un coñazo de tío. Es imposible que sea un infiltrado por lo evidente y nuestro gran temor es que este termine por cargarse todo el sistema desde dentro. Estamos convencidos de que es un radical de derechas pero dice que si nos ponemos junto a el nos daremos cuenta que es de izquierdas. Muy de izquierdas.
No sabemos qué pensar. ¿Y si cortamos todas las cuerdas y les dejamos ir? Y de paso dejan de joder y jodernos a nosotros?