Politicom: Obscenografía ¿De qué se ríen? / Obscenography ¿What are they laughing at?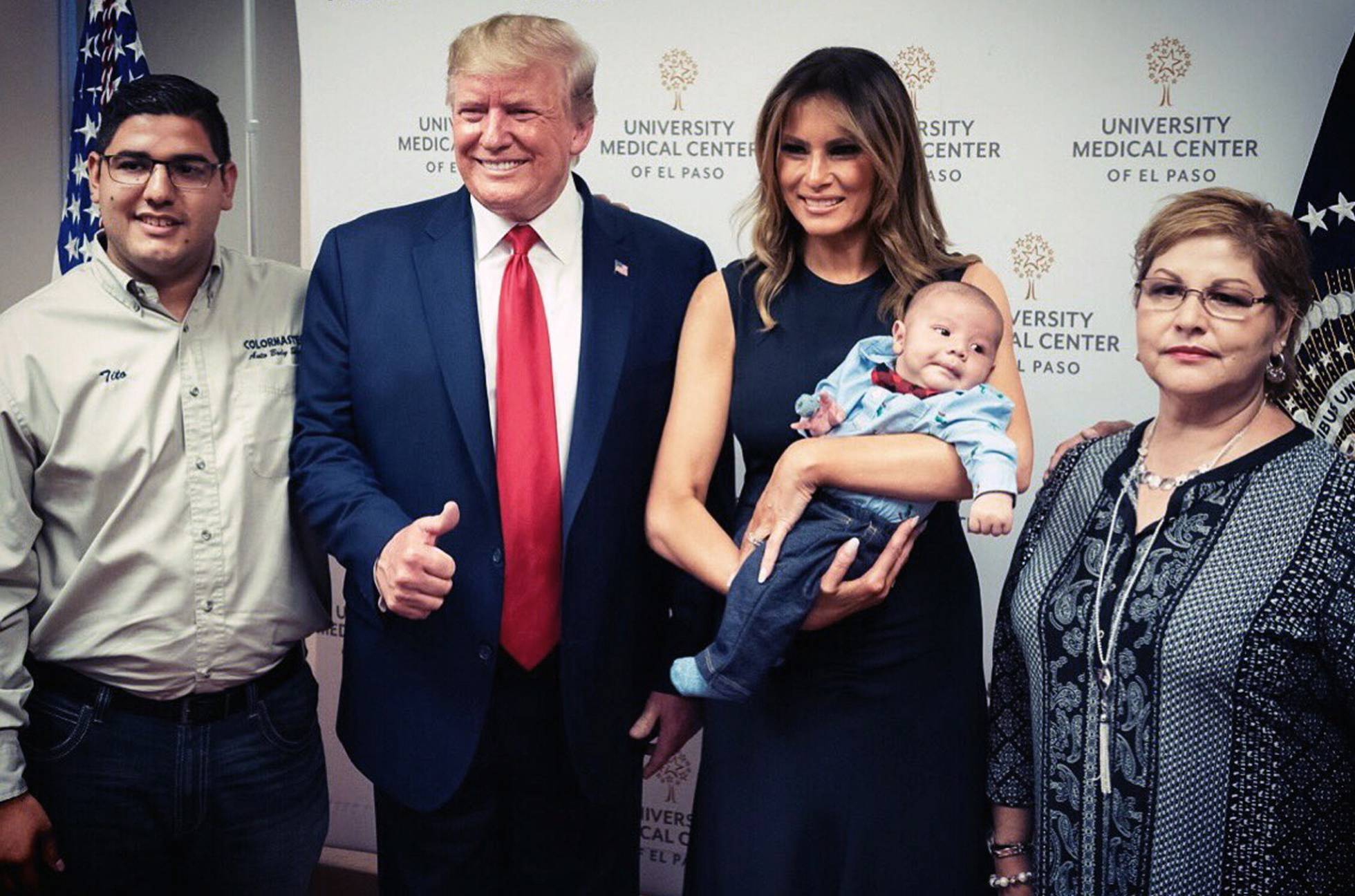 Cuando se tiene todo el poder o casi, y además se vive fuera de la realidad circundante es inevitable contagiar o intoxicar todo y a todos los que te rodean. Conociendo la peculiar personalidad de Donald Trump no sería extraño que su equipo de comunicación termine haciendo  lo que el haya decidido de antemano sin siquiera expresarlo evitando así uno de sus típicos exabruptos.
Es lo que se puede deducir a grandes rasgos de esta obscenidad de foto que al final no es mas que un reflejo gráfico de la inquietante verborrea a las que nos tiene acostumbrado. Si tiene otra explicación, digamos, mas sensata, entonces el caso es mucho mas grave.
En la foto en cuestión vemos a Donald Trump posando en una foto junto a un bebé (Especialmente vestido para la ocasión con pajarita, camisa a cuadros y jeans: que estamos en Texas) cuyos padres murieron mientras le protegían con sus cuerpos durante el tiroteo de la semana pasada en El Paso, Texas; Trump y sus cómplices rodean sonrientes al único inocente en esta foto como si de una premiación se tratara; exactamente qué celebran? el presidente norteamericano mantiene su pulgar hacia arriba como señal de que todo marcha perfectamente bien a la vez que nos regala una de sus cautivadoras sonrisas al igual que su mujer que sostiene al niño con gesto de obligación protocolaria. Pero si ya es de nota lo del presidente y la primera dama peor lo ponen los familiares del niño al prestarse para tan ominosa ocasión, sobretodo el que abraza a Trump con cara de entusiasmo.
Esta foto puede perfectamente valer para la celebración del primer niño nacido en el University Center of El Paso, para la alfombra roja de cualquier premio o para unos padres felices saliendo del hospital con su recién nacido mientras posan para la prensa. Esa es la ficción de la que es parte este hombre y en la que tiene viviendo a millones de Trumpitos.
La realidad es y es lo que hace a esta foto una ofensa para quien la mira dentro de su contexto que este presidente ha obviado como pocos el debate sobre el control de armas en EEUU, peor, cada vez que puede le da un espaldarazo a quien defiende la Segunda Enmienda y después de permanecer varios días sin referirse al tiroteo en El Paso decide ir allí y sacarse esta instantánea de celebración quién es en parte culpable de que niños como el de la foto estén hoy huérfanos.
Nota: A esta tourneé no se permitió pasar a la prensa incluso la que está acreditada a la Casa Blanca que fué quien distribuyó el material publicado.
Foto: White House
_____
When you have all or almost power, and you also live outside the surrounding reality, it is inevitable to infect or intoxicate everything and everyone around you. Knowing the peculiar personality of Donald Trump, it would not be strange for his communication team to end up doing what he had decided beforehand without even expressing it, thus avoiding one of his typical outbursts.
It is what can be deduced in broad strokes of this photo obscenity that in the end is nothing more than a graphic reflection of the disturbing verbiage to which we are accustomed. If there is another explanation, say, more sensible, then the case is much more serious.
In the photo in question we see Donald Trump posing in a photo with a baby (Especially dressed for the occasion with a bow tie, plaid shirt and jeans: that we are in Texas) whose parents died while protecting him with their bodies during the shooting of last week in El Paso, Texas; Trump and his accomplices are smiling around the only innocent in this photo as if it were an award; exactly what do they celebrate? The American president keeps his thumb up as a sign that everything is going perfectly well while giving us one of his captivating smiles as well as his wife who holds the child with a gesture of protocol obligation. But if it is already noteworthy about the president and the first worst lady put the family of the child to lend for such an ominous occasion, especially the one that embraces Trump with a face of enthusiasm.
This photo may perfectly be worth the celebration of the first child born at the University Center of El Paso, for the red carpet of any award or for happy parents leaving the hospital with their newborn while they pose for the press. That is the fiction of which this man is a part and in which he has millions of Trumpitos living.
The reality is and is what makes this photo an offense for those who look at it in their context that this president has ignored as few the debate on the control of weapons in the US, worse, every time he can give a boost to who defends the Second Amendment and after staying several days without referring to the shooting in El Paso decides to go there and take this snapshot of celebration who is partly guilty that children like the one in the photo are orphans today.
Note: This tourneé was not allowed to go to the press even the one that is accredited to the White House that was the one who distributed the published material.
Photo: White House